A Guide to Building the best Conference Room for your Workspace
---
Meeting rooms are an indispensable part of any business. It's the place, where your employees come together to discuss important issues, make decisions and plan for the future. Conference rooms are a place where business happen.
We've put together a few key factors to consider when building or renovating a meeting room for your office to guarantee ideal functionality and efficiency. It's time to making your meetings even more productive.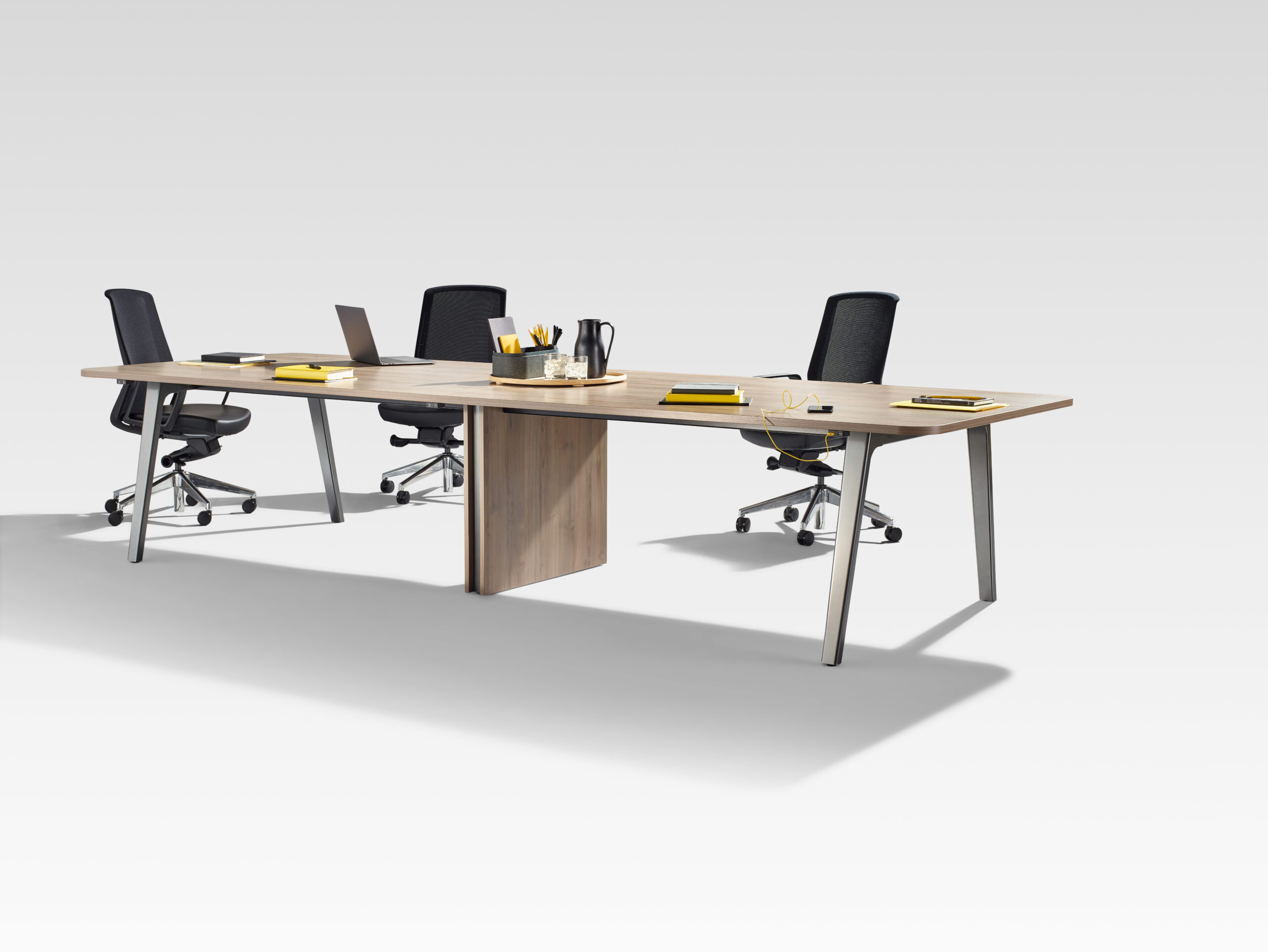 Design the Conference Room with Purpose
While designing your company meeting room think about the employees and Clients that will be using the space and about the purpose of those meetings. Create a space that enhances collaboration and communication overall by incorporating a boardroom table like Metro, available in multiple shape options to ensure that everyone can see the attendees and the TV screen no matter where they are sitting.
Additionally, don't forget to include furniture with wire management options and technology. Adding a boardroom like Norris upgrades the whole user experience by incorporating Pop Up Power + 2AC power outlets & dual USB ports and 1 slot open for HDMI, RJ11, and RJ45. These additions facilitate the whole experience while presenting and while working in Team sessions.
Finally, while designing with purpose don't forget that your meeting room should always be tidy and clean. Don't omit the importance of cable management and storage solutions, and proper waste bins to build a clean, clutter-free atmosphere.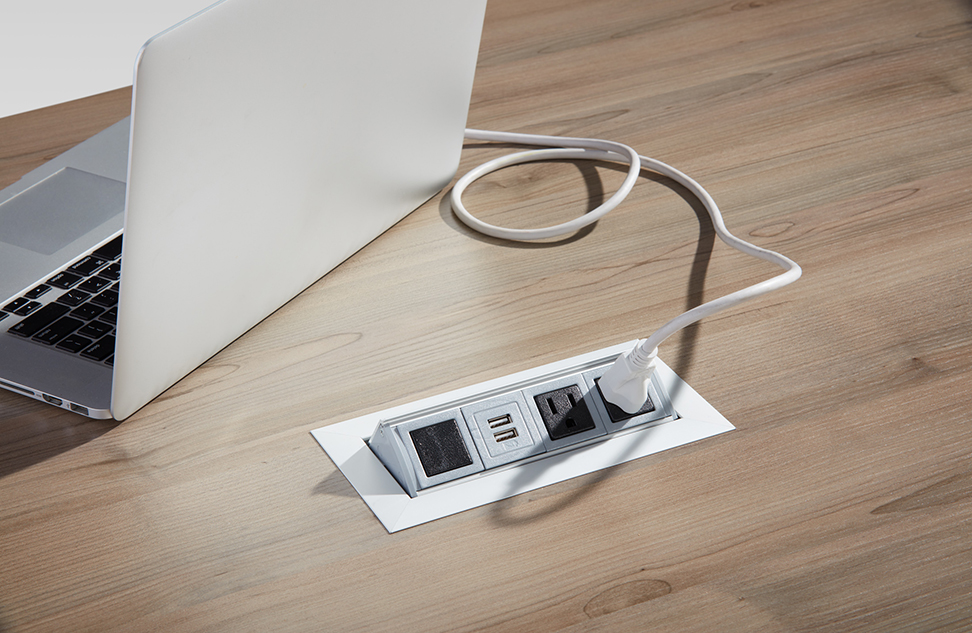 Building a Functional Meeting Setup
Another important consideration for an efficient boardroom is equipping the conference room with the proper A/V equipment so that everyone can be seen and heard.
Many Teams choose to fully integrate AV equipment into the room with wide angled web cameras, external speakers and 4K TVs lending to a remarkable experience. AV equipment allows for presentations and conferences while it also acts as a cost-saving tool by reducing travel expenses allowing Teams to connect and strategize with attendants that join virtually.
In addition to a high-tech setup, you need to control the sound that could emit from the conference room. Acoustic paneling using materials such as PET, absorbs sound to achieve privacy and control reverberating noise. This allows clear and pleasing communication in meeting and increases sound quality during video and audio conferencing.
Tell your Brand Story
A meeting room should also be a reflection of your brand's personality. To tie in your brand story consider adding customizable furniture where you can incorporate your brand colours. Meeting tables like Norris, Halifax, and Metro are highly customizable allowing the user to choose from a wide variety of work surfaces including 22 laminate colours to choose from and metal components available in 20 different colours.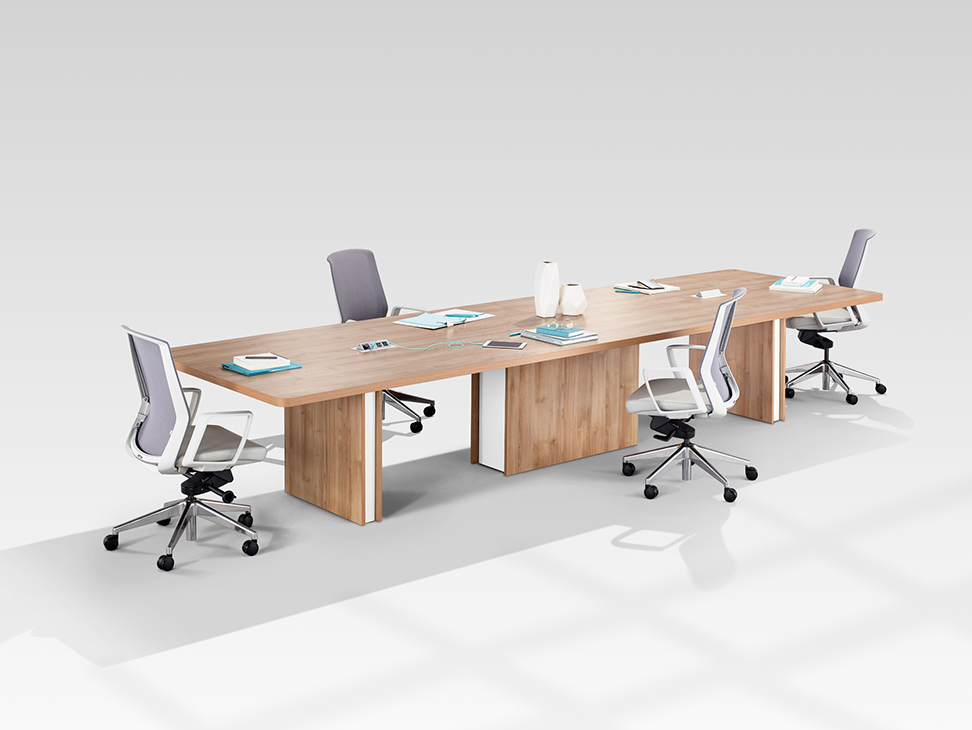 Furniture is Everything
Whether you are hosting a meeting, conference, or brainstorming session having high-quality furniture will guarantee your Team's whole comfort resulting in successful and productive gatherings. Selecting comfortable chairs like J1 will help the Team to stay productive and focused during meetings. These chairs are truly designed to support users throughout the workday with fully functioning lumbar support and synchro-tilt mechanism for the ultimate back support.
Ergonomics is another important consideration, which often gets overlooked when boardroom planning. J1 chairs feature a 3D armrest, and optional seat slider, making ergonomic positioning possible while hosting boardroom meetings. Proper ergonomics will enhance your employee's general well-being facilitating concentration and productivity overall. If you want to learn more about the benefits of ergonomics in the workplace, click here.
Think in Colour
The way you decorate your meeting room can tell visitors and employees a lot about your brand, including what type of culture you want to foster. For example, if you want to energize Employees and encourage Team work, then you might want to include yellow and orange colours in your meeting room. If you're looking to encourage trust, focus and stability blue is a great colour to contemplate. You may also consider adding warm coloured wall tones and soft lighting for smaller rooms and cooler tones and lighting for larger rooms.
Want to learn more about colours in office furniture design? Click here to learn more about colour psychology and click here to download our colour schemes guide.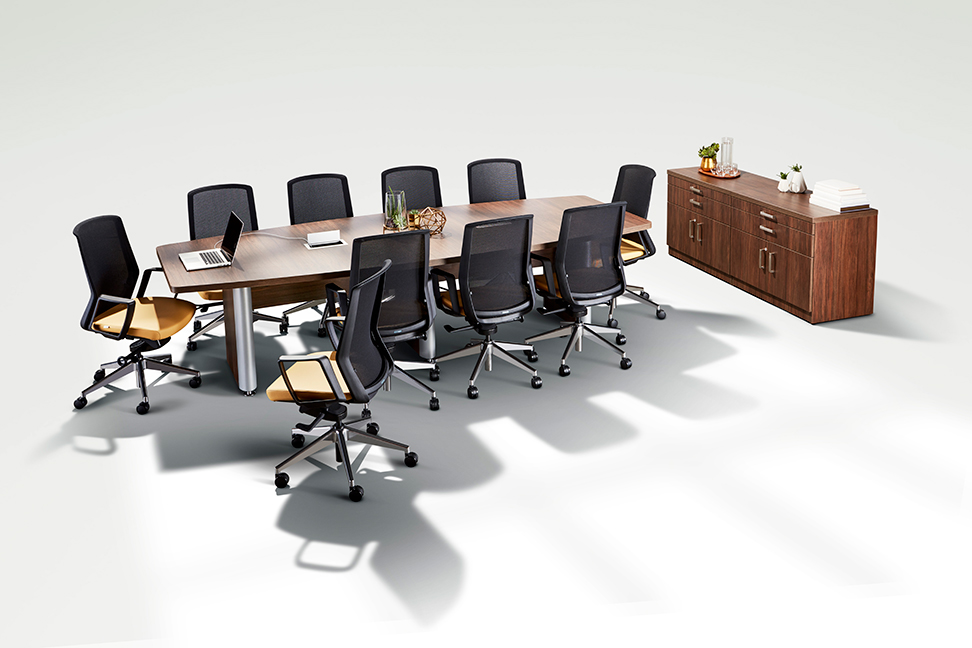 The ideal meeting room can accommodate all your needs-from big meetings with multiple speakers to smaller meetings with only a few participants. This should be an inclusive space where everyone feels welcome and invited to collaborate. Make sure to design your conference room keeping in mind the tips mentioned in this article to ensure a space where everyone can effectively interact and communicate.
Contact us now! We can help you design the perfect space based on your goals and budget, so you can get started making those important meetings even more productive now.