July 19, 2023
Door Frame Replacement on Metro and Cosmo with Scene Extrusion Parts
Starting in January, Tayco will be replacing the door frame part on Metro and Cosmo with Scene extrusion parts due to the discontinuation of the original parts by the supplier. This enhancement does not involve any changes in pricing.
The new extrusion, lacking gaskets, mirrors the aesthetic design of Scene glass doors and Switch sliding doors. With a width of 71mm, it results in a visual reduction of the glass area. The hinges for the new door differ, as we now utilize our standard hinge and hinge plate. This adjustment is driven by the discontinuation of the hinges used in the previous design, requiring a visual modification to ensure product consistency and improvement.
Please note that we still have some remaining stock of the old glass doors, and their availability is contingent upon our existing stock levels.
For any inquiries, please contact our Customer Experience Team.
Ellora Grommet and Clamp on Power V-EMW-2 Update
With immediate effect, the Ellora Grommet and Clamp on Power V-EMW-2 power devices will now include 1 USB A slot and 1 USB C slot. This adjustment has been made in response to the increasing popularity of USB C and ongoing requests for this feature in recent years.
Please be aware that we still have some remaining stock for Clamp-on Power V-EMW-2 with 2 USB A ports, and its availability will depend on our existing stock levels. However, once our current stock is depleted, the option with 2 USB A ports will no longer be offered.
We recommend reaching out to our Customer Experience Team for up-to-the-minute updates on availability.
Cosmo Radius Trim Discontinuation
After careful consideration, we have made the decision to discontinue the Cosmo Radius Trim. Although this trim has been available since the launch of Cosmo, the industry has gradually shifted towards the linear style as the new standard.
We are currently phasing out the product, and its availability will be based on existing stock levels. Once the current stock is depleted, the Cosmo Radius Trim will no longer be offered.
In line with our commitment to non-obsolescence, we will continue to provide the popular Straight Trim and Thin Trims as alternatives for matching existing purposes. The Straight Trim offers a sleek and contemporary design, ensuring a seamless look in your workspace. The Thin Trim not only shares the same modern aesthetic, but also streamlines the Cosmo workspace, providing precise divisions with clean lines. It features lightweight aluminum connections for strength and reliable support.
Throughout the phase-out process, we encourage you to reach out to our Customer Experience Team for real-time updates on availability.
February 28, 2022
Volley Height Adjustable Table Bases – R-HAxx-xx
Tayco's Volley Height Adjustable Table bases are receiving a new look and will now have a BIFMA certified option. Starting February 28, 2023 we will begin phasing out the previous model and begin shipping out Volley bases with a refined, modern foot that features clean lines and sharp angles. These Volley bases also have the option to select ANSI/BIFMA e3-2019 Level 2 certified height ranges.
In addition to the bases, the handsets will also feature an upgraded look while maintaining the four-memory pre-set.
While the look changes slightly, the specs remain virtually the same with three-stage telescopic legs with one motor per leg and anti-collision technology. Click here for the complete Volley specification guide.
Current stock of the original Volley base will be used until depleted.
February 17, 2022
Switch Spline – L-XSPL-S-82
In the Switch Panel System a spline, in matching colour to the chosen trim, can be specified as an additional feature in a straight panel run. The spline is constructed of flexible plastic which clips into the panel channels, covering the connection between two panels. While this feature was automatically supplied in the past for straight connections, it often isn't utilized and is chosen by users based on personal preference. Tayco has made the decision to offer it as an additional item for purchase. Purchasing these items only as requested will reduce waste and will help us to continue to provide Switch at a competitive price point.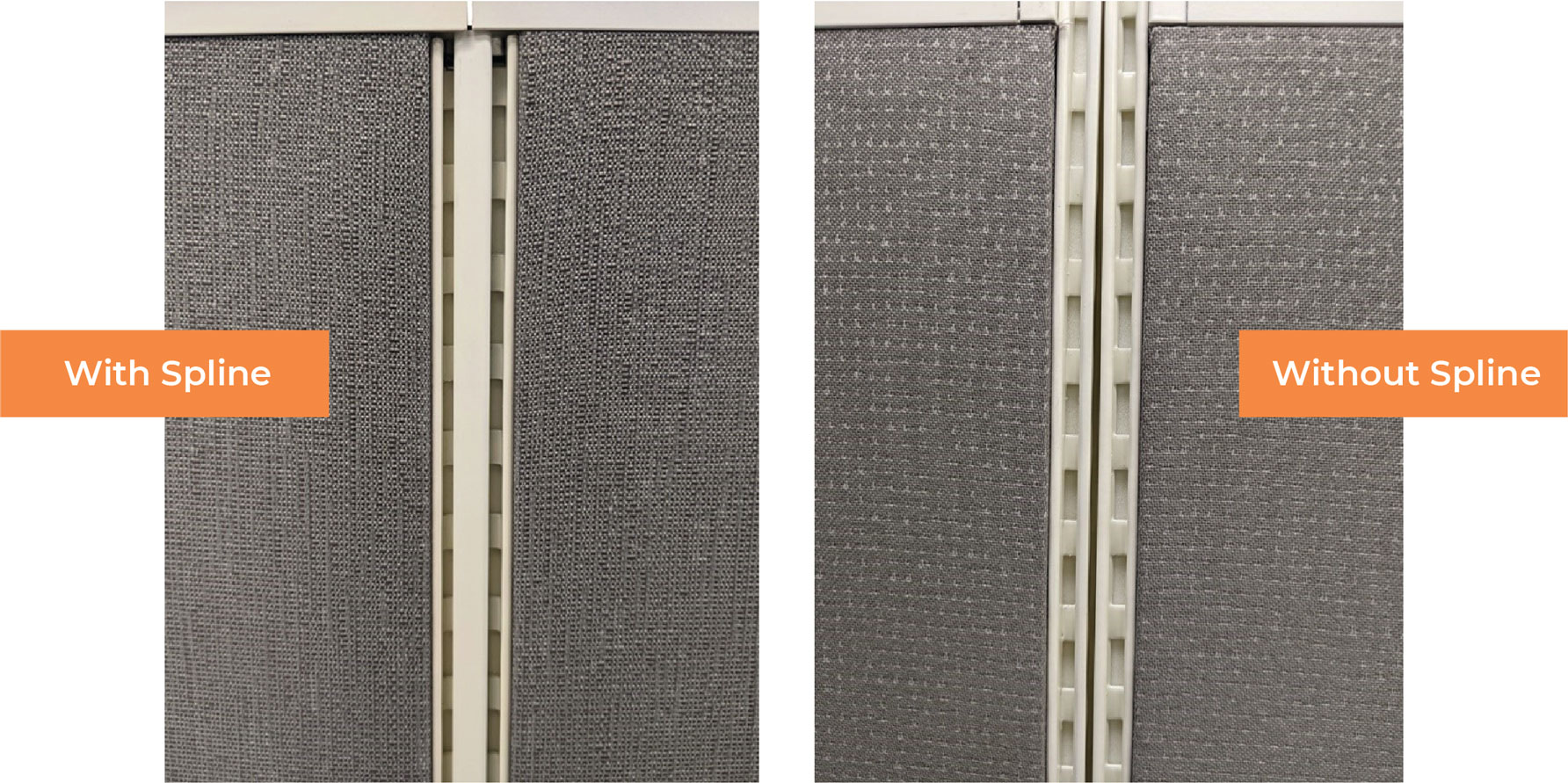 Splines are available for purchase in Black, White, Silver and Charcoal using the code L-XSPL-S-82. They are sold in a pair will all come in 82″H and can be cut to size on-site.
All 2-way 90 degree, 3-way T, and 4-way X connections will still come automatically with the spline.