Elevate Your First Impression With Tayco's Reception Collection
Designed with intention, our Reception Collection elevates the initial impression of every passerby.
In today's world, a reception must make a statement. Visitors have an expectation of how the company should appear, therefore the reception unit and welcome area should be an authentic representation of each company's culture and messaging.
"The need for an impressionable reception area has grown greatly," says Marketing Manager, Emily Boland-Slinn. "In today's world, prospective Customers and employees form their opinions of carefully curated brands through internet research and social media. It is vital to make sure their first physical touchpoint echo's the story a brand is telling."
Our new Reception Collection includes three original styles; Aloha, Karibu, and Maeva, offering a wide range of possibilities for any taste. Aloha, Karibu, and Maeva are designed to take visitors on a journey, from the moment they walk in the door, ensuring the first physical touchpoint is a welcoming environment, aligned with company's the brand identity.
This new product line enriches our current range of office furniture products, making Tayco your source for all your office furniture needs. As always, the three new reception styles are crafted with high-quality, durable materials and carefully curated designs. The reception collection provides highly customizable solutions for every user including a wide range of sizing options, straight and L shape configurations, all with the ability to be ADA compliant.
Say Hello To Aloha
Aloha, the Hawaiian word for hello is our awe-inspiring waterfall reception. This statement welcome piece was carefully crafted using the compelling rule of thirds composition to offset the sleek transaction top, which guides visitor's eyes along its clean, crisp flowing lines.
This modern yet timeless repletion desk offers a wide transaction space and functional storage options to effectively welcome visitors and leave a lasting first impression. Click here for more details about Aloha.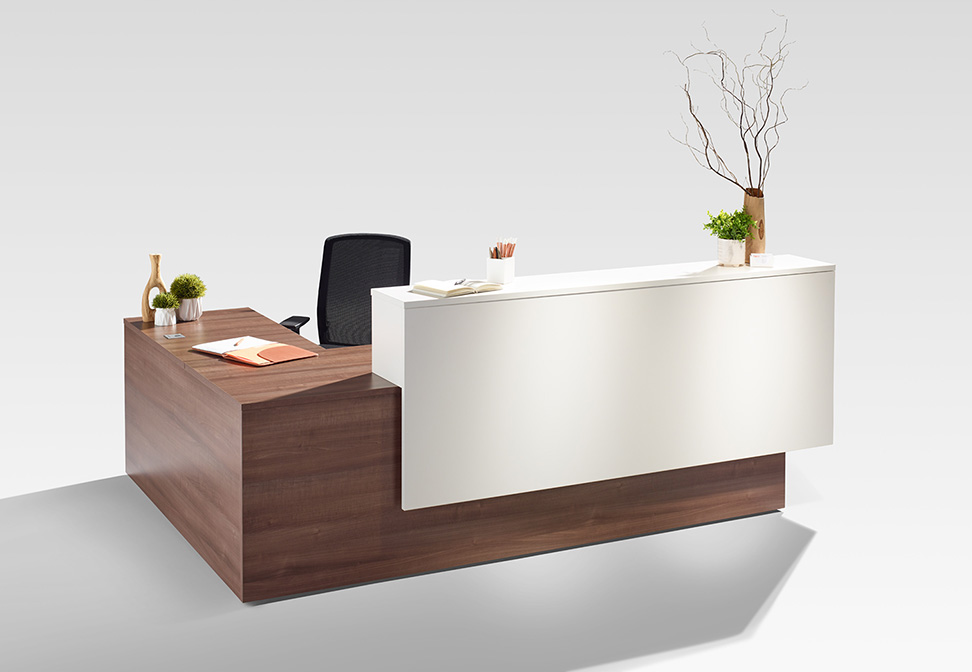 Welcome with Maeva
The second addition to the Receptions Collection is Maeva, inspired by the Tahitian word for welcome. The Maeva is an inviting and versatile reception desk with dynamic curvature that creates a smooth, inviting façade. Maeva is an ideal solution for any organization's reception needs, with a full or partial transaction top, this piece can be configured to the exact needs of the client.
The inset desk core, surrounded by the exterior rounded border creates the ability to showcase contrasting laminate colours and an ideal location for a company logo. This sophisticated, balanced design creates a truly inviting space where anyone can connect effectively. Click here for more details about Maeva.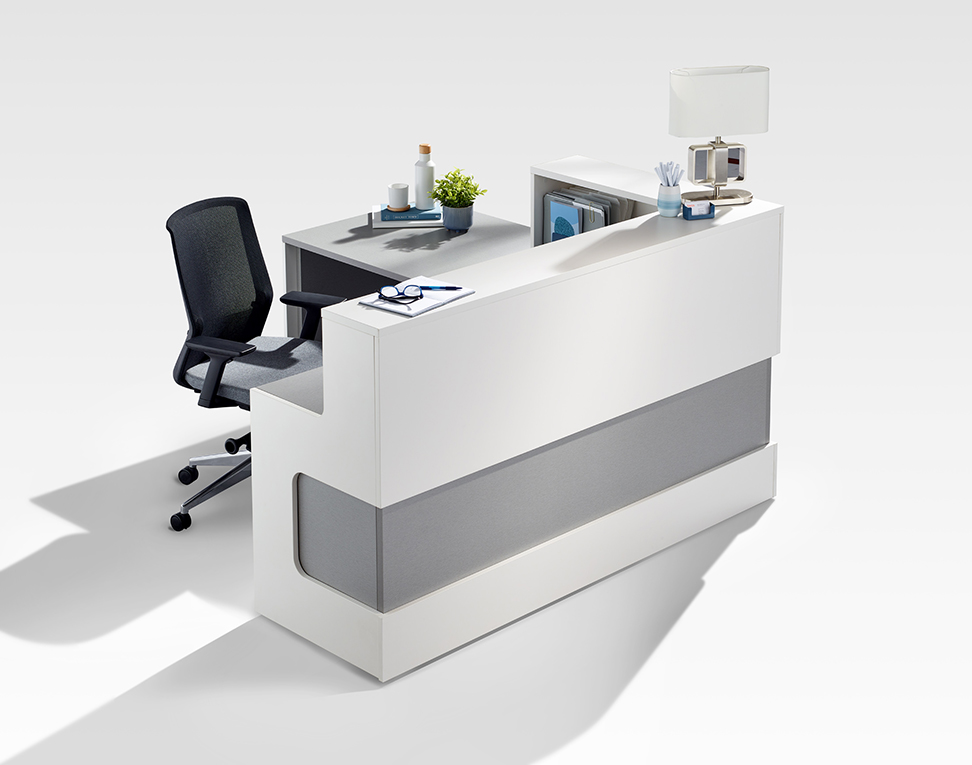 Greet with Karibu
Karibu, which was named after the Swahili word for welcome, is a clean and statement reception desk featuring sharp defined angles and crisp lines. Suited to any space, Karibu's bold style comes with an optional worksurface extension for ADA compliance. The Karibu's kit of components offer the ability for dual laminate colours, to create a monolithic or contrasting appearance.
With an eye-catching design, Karibu is a versatile solution that makes a bold statement in any office environment.
Click here for more details about Karibu.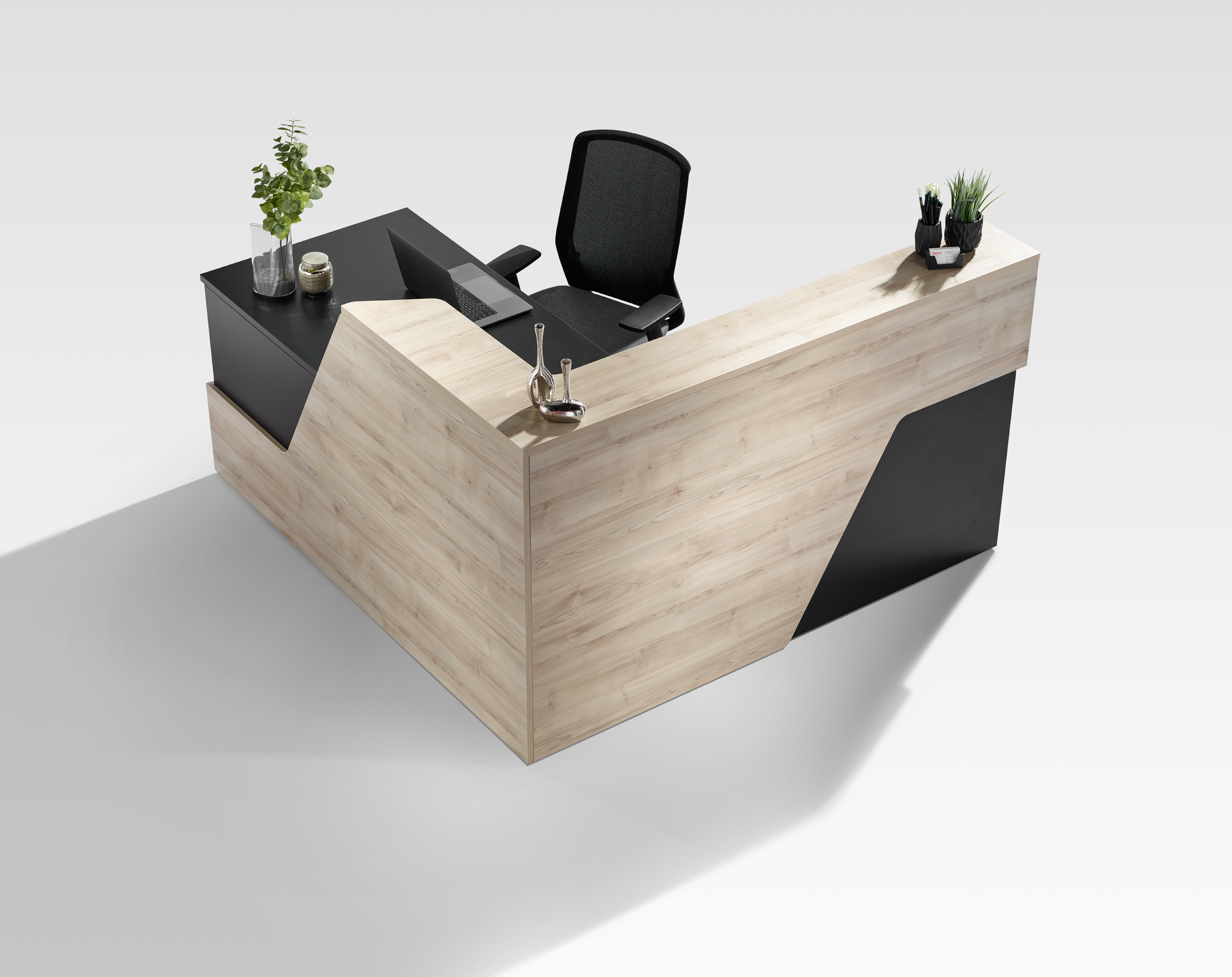 All Tayco receptions are available in an array of shapes, size offerings, and 20 laminate colours to choose from, allowing the user to stamp the personality of the brand in the welcoming area ensuring a space that is aesthetically pleasing and that makes an impactful brand statement.
We are extremely proud about creating a space that makes visitors feel welcome and at home, with a modern aesthetic that is both functional and stylish while still being budget-friendly.
To learn more features about the Receptions Collection, click here.